During the first years of the 1900's, fires in Tremont were fought by the homeowner using buckets to carry water from a nearby cistern or well. By the early 1920's, the Tremont Fire Department had been established and the station was housed in the old Poultry House at 134 South Sampson Street. Later, it was moved to the site of the old water tower and pump station in the 100 block of West Madison Street. In 1941, the station was relocated to 214 South Sampson Street and finally, on October 23, 1963, it was officially moved to its current location at 300 South Sampson Street.
The fire protection district was formed in the fall of 1961 and included both village and rural areas, covering approximately 75 square miles. Previously, fires in rural areas were charged a fee, but now service to all areas within the district was supported by a fire protection tax.
Since that time, the station has been expanded and now also houses Tremont Rescue, which was established as a local ambulance service in 1977. Just as the building has grown, so has the list of emergencies to which the department responds. Possible scenarios include incidents involving confined spaces, hazardous materials, and even terrorism. Firefighters continue to adapt to these new challenges by attending training locally, within the county, and at numerous "fire schools" across the state.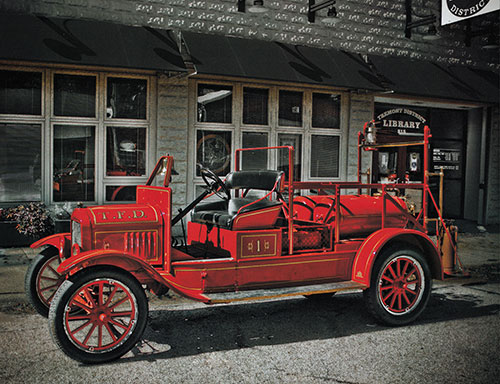 The first motorized unit purchased by the Tremont Fire Department was this 1924 Model T, purchased for $1,260. It arrived in Tremont by train and was driven down the gravel streets to the fire station. Eventually the truck was taken out of service and put into storage. After being completely restored by the firefighters in 1984, the truck now serves as a proud representative of the department at local parades and events.