Our Trucks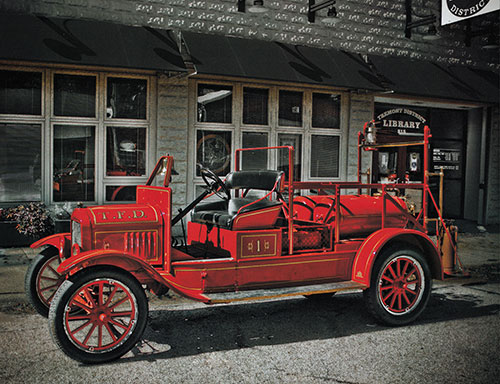 1924 American La France Model T Pumper, $1,260
The first motorized unit purchased by the Tremont Fire Department was this 1924 Model T. It arrived in Tremont by train and was driven down the gravel streets to the fire station. Eventually the truck was taken out of service and put into storage. After being completely restored by the firefighters in 1984, the truck now serves as a proud representative of the department at local parades and events.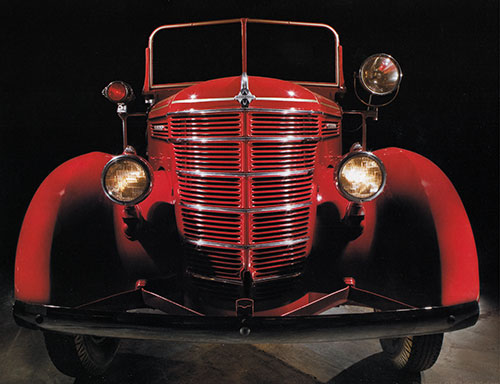 1938 International Pumper, $2,300
Upgrading from the Model T, this was the second truck purchased by the department. Because the pump on this truck was gear-driven, it was a vast improvement over the pump on the T which was pressurized by a chemical reaction. When it was in service, this was the only truck the department had, so all of the firefighters had to jump on when it headed to a scene. Today, after being restored by the members of the department several years ago, the truck is more likely to have kids piled on it as it drives around town giving rides during the annual Fire Department Open House in October.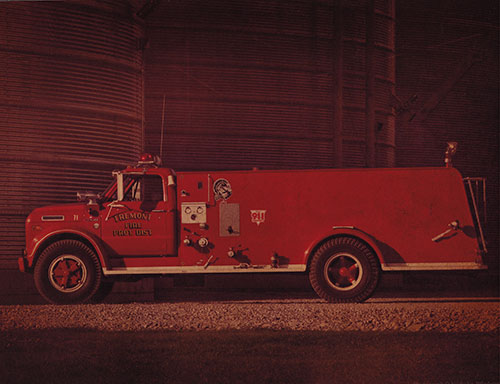 1971 Alezis 500 "T" Tanker, $13,360
Rural fires have an additional challenge over city fires because all of the water needed must be transported to the scene. Tanker 71 carried 1,250 gallons of water and a crew of two. Because this truck could "pump and roll" it was also used to help fight brush, field, and grass fires, which are a common occurrence in the spring and fall. This truck is no longer in service.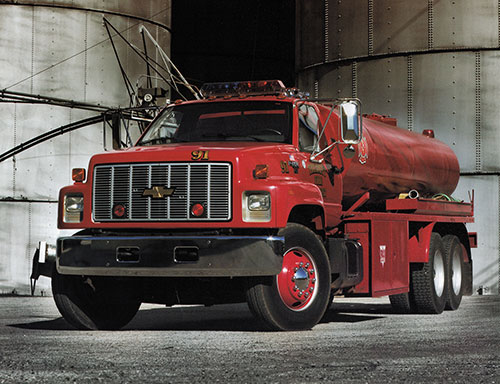 1991 Custom Built: Chevy Chassis/Oregon Tanks, $66,000
When this big water supply vehicle reaches the scene, it arrives with 3,000 gallons of water. But what if more water is needed, faster than Tremont can supply it alone? Having mutual aid agreements with all of the fire departments in Tazewell County means Tremont has access to the resources of 20 other fire departments by simply making a call for assistance. That means not only trucks for supplying water, but also manpower, engines, or whatever is needed. Of course, Tremont is more than happy to reciprocate should any of these other departments need help.
2000 Ford F350 4x4, $44,500
Purchased with funds from an Illinois First grant, this four-wheel-drive vehicle serves primarily as a brush truck, helping extinguish fires in fields, grasslands, and timber. Though it carries only 300 gallons of water, its maneuverability makes it a valuable tool when fighting these fires, which often occur in remote locations and on rough terrain.
2002 E-One CO34 Commercial Pumper, $247,000
When responding to a structure fire, Engine 02 is the first line of defense. It carries 1,000 gallons of water and has a 1,500 gpm pump ready to send that water wherever it is needed. In order for firefighters to breathe safely when fighting a fire, they wear self-contained breathing apparatus (SCBA). This truck has three SCBA located in the back seat, ready for easy access, and additional SCBA in the side compartments. It also has the capability to refill the SCBA bottles using its onboard cascade air system.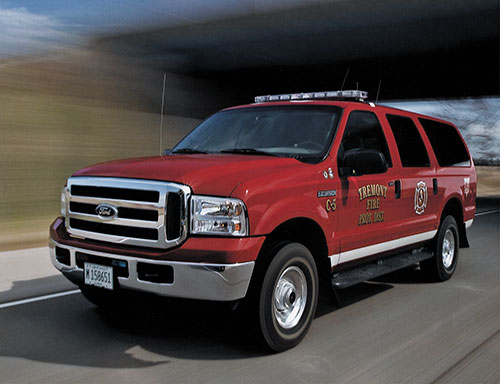 2005 Ford Excursion, $30,000
At any scene, there is a lot of activity going on and it's important to have a good center of control. Whether the task is keeping track of where each firefighter is currently located, communicating with multiple agencies throughout the state, or simply providing the means of moving groups of personnel from one location to another, this vehicle is up to the challenge. With multiple radios, tools for handling accountability, and many other supplies on board, C5 arrives on scene ready to take command.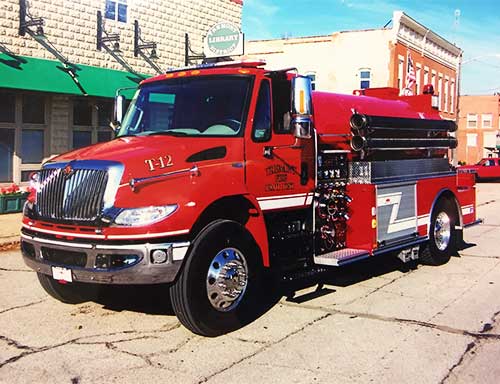 2012 Midwest Fire Tanker, $194,000
Rural fires have an additional challenge over city fires because all of the water needed' must be transported to the scene. T12 has a 750 GMP pump and carries 2,000 gallons of water plus a crew of two. The dump valves, located on each side as well as the back, can be operated from the cab, allowing the water to be unloaded rapidly so the truck can quickly be back on the road to get more. Because this truck can "pump and roll" it is also used to help fight brush, field, and grass fires, which are a common occurrence in the spring and fall.
2017 Pierce Saber Rescue Pumper, $438,000
A multipurpose vehicle, Engine 17 responds to almost all incidents. In addition to 750 gallons of water, 25 gallons of foam concentrate, and a 1,500 gpm pump, it carries a wide variety of hoses and tools, including the "jaws of life" and other equipment used at accident scenes.